KOI News
We are delighted to announce that Patrick Lim Chee Jin has joined us as a KOI Instructgor of Shitoryu. Even more exciting is the fact that Patrick has just been elected Chairman of the Referees Committee of the Asian Karate Federation, a most noteworthy event. Patrick has received the full support of his sensei, mentor, and President, Mr. Clement Soo. Clement is a member of the Executive Board of the AKF and has long been an influential figure, not only in Malaysia, but throughout Asian Karate circles and in the WKF. We congratulate Patrick and Clement for their success and support and look forward to a long and fruitful relationship.
---
Gold Wire Blazer Badges

Gold and silver wire blazer badges are now available to all members. Ask your instructor or order direct from us.
---
Web Site Layout
We hope you like the new KOI site layout. It was designed by Jason Stanley who also runs the KarateTips web site. If you would like Jason to design a site for you contact him. Click here
KOI Online Membership
The member's section of KOI contains valuable information for both KOI members and their students (such as the grading syllabus), plus hints and tips for referees and those students interested in competition.
To become an online KOI member, click here.
---
Member of Honour Awards
Some time ago KOI began to think of how to acknowledge in a nice way the contribution of those who have dedicated themselves and expended great effort in support of KOI and so was born the idea of "Member of Honour". It was decided that six persons would be the first to receive this special award;
Steven Morris, Scotland
Kamil Musin, Russia
Richard Callaghan, Australia
Murad Assem, Egypt
Gina Ragazzo, Italy
Loh Beng Hooi, Malaysia
All of them have contributed in different ways to help make KOI what it is today and we are very proud of them and what we have made together: something different and unique in the karate world... Kobe Osaka International.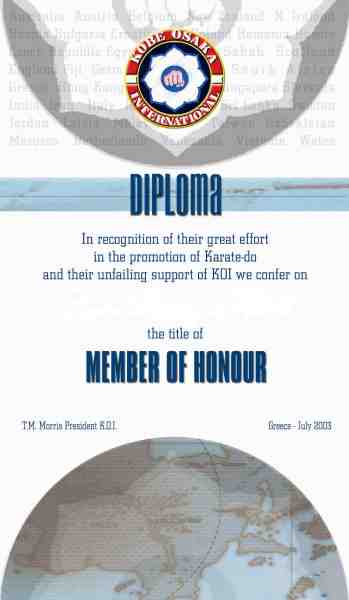 ---
Tommy Morris Receives 8th Dan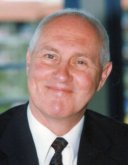 At the Congress of the 16th World Karate Championships in Madrid Tommy Morris was awarded the rank of 8th Dan by the World Karate Federation President Don Antonio Espinos Ortueta. Tommy had just completed his technical report to the Congress delegates when the President asked him to remain on the podium. There then followed a very moving eulogy on Tommy's work and dedication to karate. President Espinos said that the WKF owed a great deal to Tommy for his competent work with the referees over many years and more recently for his part in the development of the new competition rules.
This is the first time that the Directing Committee of the WKF has actually awarded a Dan Grade, as until now WKF has simply recognised grades already awarded by the National Federations to their own members. This is what the President said in his letter of 9th September to the Directing Committee members.
"I convey to you my proposal for awarding the 8th Dan to Tommy Morris, to be able to give him the certificate in Madrid next November. He received the 7th Dan in March 1985, this is 17 years ago, he continues active in training and teaching and his undisputed contribution to World Karate and WKF as well as his trajectory since then have led me to propose you this award as the culmination of an outstanding career in Karate during the last two decades."
The Directing Committee decision was unanimous.
Tommy said later that the years had simply flown past and he had never given any thought to or attached any real importance to being upgraded as evidenced by the seventeen years that had passed. He said that until now the highlights of his karate life had probably been the award of his 1st Dan in 1965 and his 5th Dan in 1976, both of which he regarded as major milestones in his career, anything after that was simply a number to be added to one's CV. However what Antonio Espinos had said to the delegates at the Congress had changed all that and Tommy feels very honoured and gratified by the award.
---
Affiliation Renewals
Please note that all affiliations and licences expire on 31 December each year. Please renew your membership and apply for your licences as soon as possible so that your membership does not lapse.
---
Licences and Affiliations
Please note that KOI has adopted a new system of affiliation and licensing of associate members. Licences available are the normal Student Karate-ka Licence, the International Competitor's Licence, the Registered Black Belt Holder's Licence and the Black Belt Instructor's Licence. All Associate Member's licences and affiliations expire on 31 December each year. (Full Members in Scotland, Kobe Osaka England, and Australia are not affected.) The Licences are in the form of a plastic I.D. card and are renewable each year on 1st January.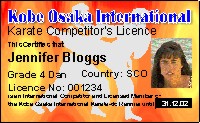 If you do not have a current licence or your Club or Federation has not paid its affiliation fees, then you are not a member. If you are a competitor you should apply for a KOI Competitor's Licence which lets you participate in all KOI events world-wide. Don't forget to send a passport style photograph of yourself with your application so that it can be scanned onto your Licence/I.D. Card.
---
KOI Instructor Licences
KOI Instructors will now be receiving the new plastic I.D. card licence. Since these new cards display the holder's photograph you are reminded to send a good passport type photograph with your next licence application, even if you have sent one before. After that the photo will be retained on file and there will be no need to send another unless you want to update the photo. Cards are also being issued for Black Belt holders who are not instructors, these do not require a photograph.